---
Sale
Is the DonJoy Wrist Wrap Right for Me?
Ideal for those who need to limit range of motion in a single direction, such as extension, flexion, ulnar or radial deviation during contact sports, work or other daily activities. Try the Brace Advisor for personalized product recommendations to meet your needs!
Ideal Application:
The Wrist Wraps Support is ideal when limitation of range is needed in one direction only, such as extension, flexion, ulnar or radial deviation. It is also ideal for sports-related and job-related injuries allowing freedom of the hand from splinting. These DonJoy Wrist Wraps can be used in football (linemen) for prophylactic use as well as jobs requiring repetitive hand/wrist movement. These wrist wraps can be used for all sports including tennis, golf, gymnastics, tumbling and even water sports such as swimming and diving.
Features and Benefits:
Neoprene inner lining for comfort
Interchangeable foam inserts for variable support
Woven nylon outer shell for durability
Opposing straps limit rotation of brace
Can be worn on either wrist
Product Care
Wash with mild soap, rinse and air dry.
NOTE
Purchase of this product comes with one single brace. To wrap both of your wrists, you will need to purchase two.
Measurement:
| | |
| --- | --- |
| Size |   |
| S | 5-6" ( 12.75-15.25 cm) |
| M | 6-7" (15.25-17.75 cm) |
| L | 7-8" (17.75 cm - 20.25 cm) |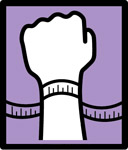 My son has a TFCC injury from playing lacrosse. We decided to try this wrist brace out because most seemed bulky or not supportive. The brace fit under his glove well and provided great support. He felt that it worked well to decrease the pain and allow him to play. He is a faceoff guy so that is saying a lot.